Eating in a planet-friendly way doesn't have to be boring or difficult — quite the opposite. Cooking plant-based opens up a whole new world of flavors and combinations you may never have thought about. Our meal planner makes ditching animal products and nourishing your body easy, fun, and very tasty.

BECOME A HERO IN THE KITCHEN
One thing that everyone can do to earn hero-worthy status when it comes to saving the planet, is eating plant based. Not only does it make you a better cook, it fuels your body with all the nutrients it needs to thrive. Going plant-based also causes far less destruction to the planet when compared to a typical meat- and dairy- based diet.
You will feel empowered knowing you're making a difference with each and every new meal you make. We have 1000s of tried-and-tested recipes ready for you to enjoy, as well as an easy-to-use meal planner, caring food coaches, grocery list generator, and even a grocery delivery service if you want one; everything you need to do good, while saving time.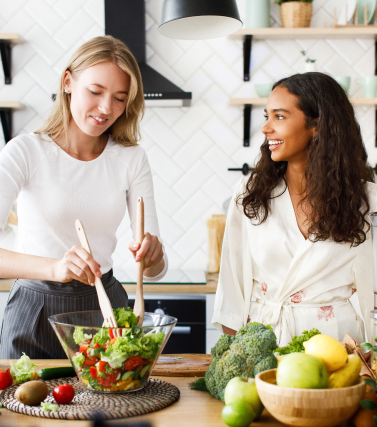 CARING FOOD COACHES SHOW YOU THE WAY
Worried you will struggle with all the new ingredients and recipes? Change isn't easy, but it's usually worth it! That's why we have a team of experts on-hand to help you adopt this new diet and Eat For Tomorrow. They're available seven days a week by phone, chat or email to guide you through the app and provide support.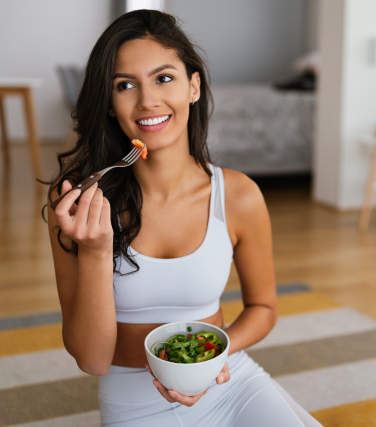 NOURISH MIND, BODY AND SOUL
A plant-based diet is associated with longevity and a reduced risk of chronic diseases like heart disease and cancer. Now is the time to gain control over your diet and focus on providing optimal nutrition for you and your loved ones.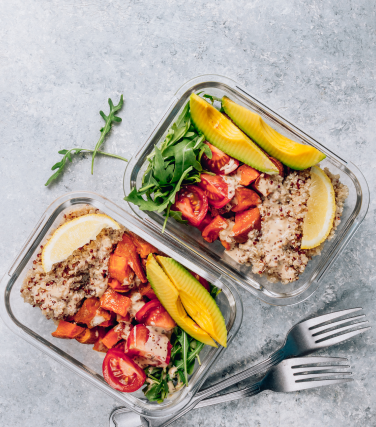 MORE CONVENIENCE, MORE 'YOU' TIME
If our busy lives are short on anything, it's definitely time. Take some time back and put it to better use using our meal planner. Whether you use the app to throw together a quick grocery list in the parking lot or totally kick back and have your groceries delivered by Amazon or Instacart, you can find a way to make mealtimes much easier, while saving time and money. 
BACKED BY THE AWARD-WINNING FILM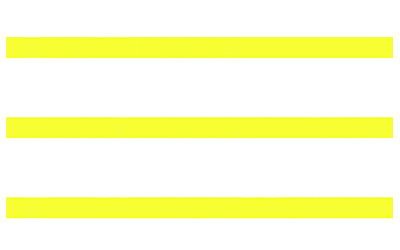 A TASTE OF WHAT'S TO COME
Whatever you are craving, there's an Eat For Tomorrow recipe ready to satisfy your needs. You can search our database for thousands of nourishing plant-based meals packed full of nutrients AND taste. You'll find everything from simple 'throw it in a pan' dishes to elaborate and adventurous meals to impress your friends and family. 
Every breakfast, lunch, and dinner has been designed by nutritionists and taste-tested by food experts, so you can cook with confidence. You'll get a fresh batch of personalized meal suggestions every day with customisable options.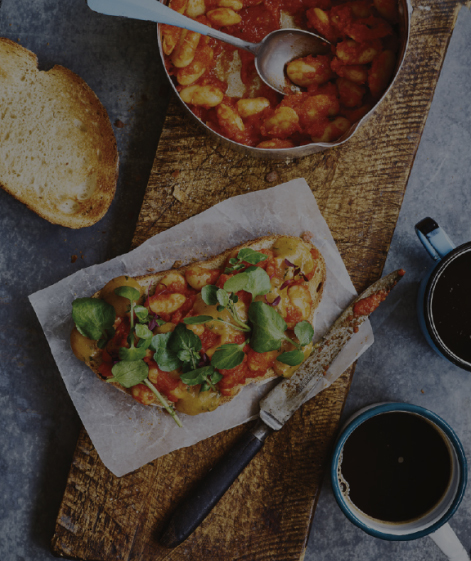 Smoky tomato beans with cassava puree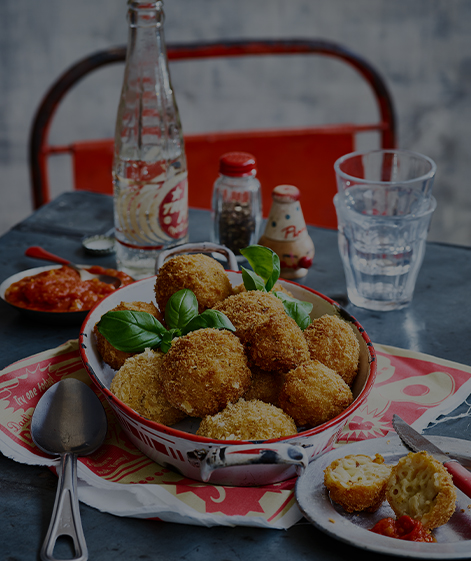 Mac & cheese bomb in Cajun panko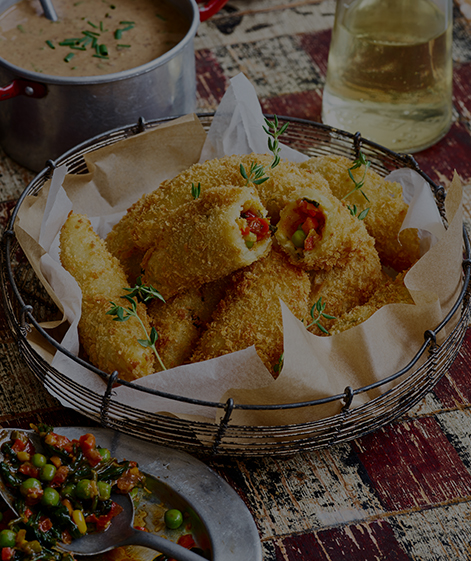 Rissoles with black bean dip

This is about my third week of lifestyle eating change and your meal planner has made things so much easier! I sat down on Sunday and selected my meals for the week, put them into my groceries list and bam! I am set for the week. No more guessing what to fix and no more running to the store to get something that I need to make a dish.
EVERYTHING YOU NEED TO KNOW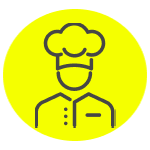 Enjoy help from caring food coaches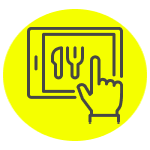 See nutritional analysis & exclusive tips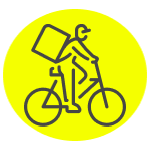 Have your groceries delivered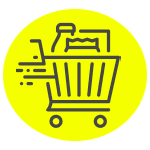 Save time & money at the store
AS LOW AS $1.90/WEEK WHEN YOU SIGN UP FOR A YEAR

We get to know you so that you'll have delicious, nourishing recommendations personalized for everyone in your home.

Discover abundance & convenience
We make it easy to discover new foods, plan your week and stay organized.

With smart grocery lists, grocery delivery, cooking videos, tons of helpful resources and caring food coaches – home cooking has never been easier.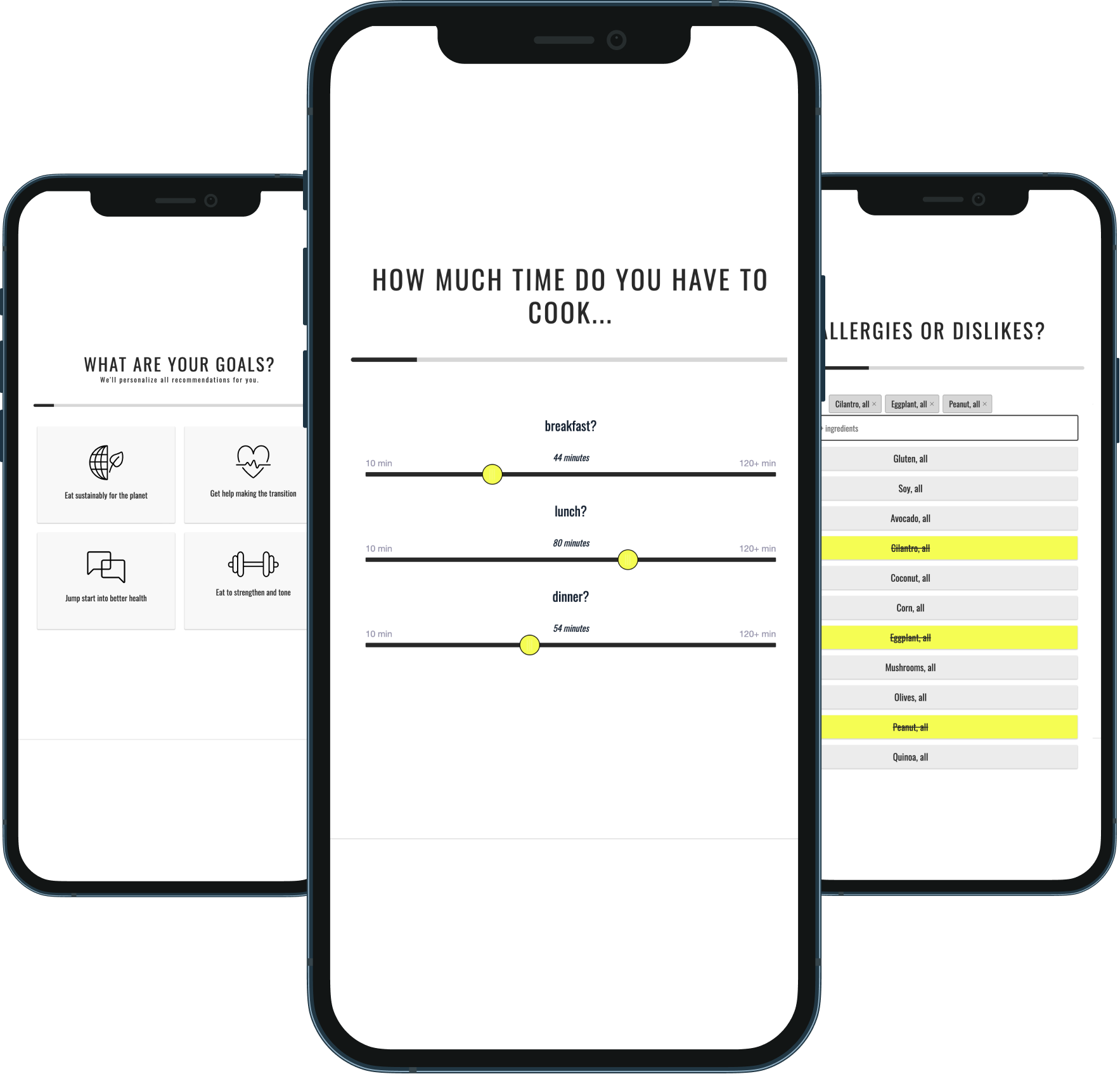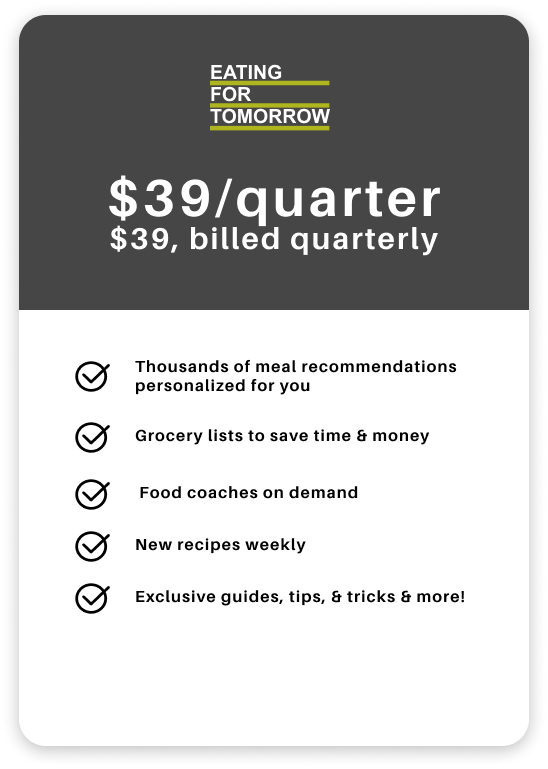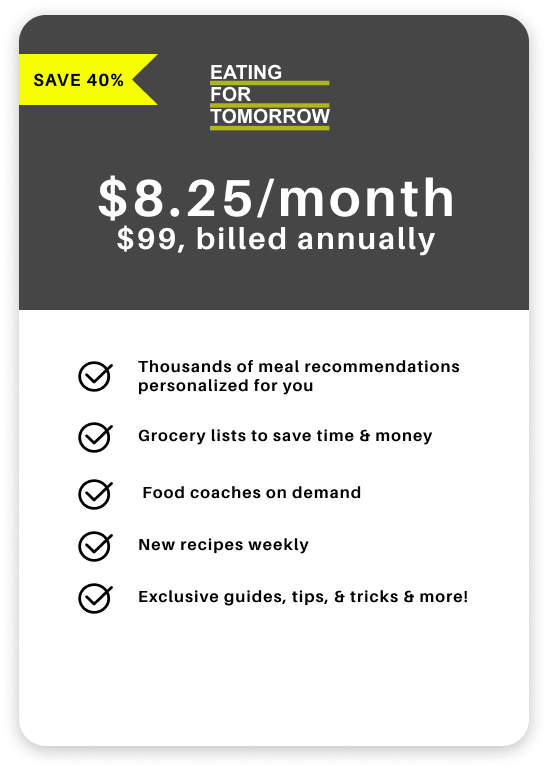 WE'LL EVEN PLANT A TREE WHEN YOU JOIN
Your Title Goes Here
Your content goes here. Edit or remove this text inline or in the module Content settings. You can also style every aspect of this content in the module Design settings and even apply custom CSS to this text in the module Advanced settings.
What is the Eating for Tomorrow Meal Planner?
Welcome to the
Eating for Tomorrow Meal Planner,
where your values of sustainability and wellness are put into action via a delicious, customized environmentally-friendly plan for you and your household! 
Inside, you will find:
Live Food Coaching


Our expert team is here to help you every step of the way. Whether you have a question about meal prep, shopping, cooking, or you just need someone to talk to about the process, we're here for you every day!
Thousands of Personalized Plant-Based Recipes


Our expert culinary and nutrition team took years to develop thousands of meal ideas, so you can find exactly what you're craving and feel good about it.
Nutrition Analysis


We know this information is critical for helping you meet your goals and making sure you get exactly what your body needs. You'll find a nutrition analysis for every meal.
Smart Grocery Lists


Each menu you create has a grocery list that automatically updates and adjusts to your unique household needs, saving you time and energy.
Delivery to Your Door


Hundreds of areas in the U.S. now have multiple grocery delivery options available, making shopping and cooking easier and faster than ever.
Cooking Videos & More
With educational cooking videos and exclusive tips, we're here for you. We could keep going, but we want you to get started! There is so much to discover inside the Eating for Tomorrow Meal Planner.
What's the price?
Receive new personalized recipes, unlimited printable menus and grocery lists, full nutrition information for every meal, on-demand help from friendly Food Coaches 7 days a week, exclusive tips and advice from the Eating for Tomorrow team, and so much more for $39/quarter or $99/year. That's a 40% savings when you sign up for the yearly plan!
Members report saving money on groceries every week when they use the planner regularly. We're confident that you'll get that money back (and then some) while enjoying a nutritious plant-based diet.
I cook for a household. Will this work for all of us?
Yes! When you sign up, you can include other members of your household. That way, you will have the right amount of food to feed and please everybody!
You can also change the servings on a recipe-by-recipe basis, adjusting for daily and meal-time changes.
Do you deliver groceries?
If
Instacart
or
Amazon Fresh
are available in your area, you can get your groceries delivered! Simply click Delivery from your smart grocery list to send your ingredients to your preferred delivery service.
Your handy grocery list also makes in-store shopping easier. Just pull up the list on your phone, and when you find an item in the store, check it off to move it to the bottom. If you prefer a paper list, you can print your list before heading to the store!
What if I need to shop for some items off the plan?
You can add as many extra items to your grocery list as you want, so your
Eating for Tomorrow Meal Planner
list is the only one you'll need! Staying organized with your grocery list sets you up for success every time you go shopping. You won't forget toilet paper ever again!
I have a comment/question, what should I do?
We'd love to hear from you! You can chat with us anytime, or email us at
meals@eatingfortomorrow.com
I'm not a great cook. Should I sign up?
Yes, and we are here to help! If you're new to cooking, this program is full of useful resources to make you feel more confident and at ease in the kitchen. Detailed instructions, helpful cooking technique videos from
Rouxbe Cooking School
, and beautiful food photos will guide you as you whip up your tasty meals. Our on-demand Food Coaches are available to help you along the way, too.
Whether you're stuck while planning, shopping, cooking, storing leftovers or anything in between, our team is here to make sure you are successful!
Can I purchase a gift card?
Absolutely! You can purchase a gift card for a Monthly or Annual membership here. Your lucky recipient will be able to activate their membership whenever they're ready to get started!
Your Title Goes Here
Your content goes here. Edit or remove this text inline or in the module Content settings. You can also style every aspect of this content in the module Design settings and even apply custom CSS to this text in the module Advanced settings.
What types of recipes will I get?
Our searchable recipe database is filled with thousands of nourishing, nutritionist-crafted meals to satisfy every craving. You'll find everything from simple, veggie-packed meals to exciting, adventurous dishes. Each recipe is created and taste-tested by a team of nutritionists and food experts, so you can cook with confidence. 
The important thing to know is that every recipe is full of the most nutritious ingredients straight from nature. Every day, you'll get a fresh batch of personalized meal suggestions for breakfast, lunch, and dinner. We offer multiple meal plan styles and tons of customization options so you can get recipes that are a perfect fit for you.
How can a Food Coach help me?
Our team of Food Coaches are here to make sure you get the support
YOU
need to meet your goals. That means our approach is tailored to your questions and unique needs. Whether you're new to plant-based food, a novice home cook, have specific food goals, have picky eaters at home or you're just looking for some friendly support, we're here for you! Our team is available 7 days a week, so we're here when you need us. Do you want regular check-ins? Or just need to know that you have access to a team that can answer your questions whenever you have them? We structure our support in the way that works for you. Here are just some of the ways we're here to make sure you have the best experience. We can:
Kick off your meal planning with a 1-on-1. 

Support you by chat, email, or phone.

Offer you expert culinary and cooking advice.

Suggest food substitutions for any meal.

Create the perfect grocery list for your needs.

Help with planning & cooking for your family.

Share tricks for budgeting and reducing food waste.

Help you find food you love while enjoying the adventure of cooking new recipes.
The best part is, there's no additional cost to get the support of a Food Coach. Our team is here to support all program members. Just let us know when you're ready by chatting or emailing any time! 🙂
I have food allergies/I'm gluten-free. Can the program help?
Yes, you can set your preferences to exclude any ingredients that you or someone in your family is allergic to or doesn't like. With recipes that match the needs of your entire family, you won't have to worry about making separate meals for everyone in the house!
Can I change my preferences later?
Yes! You can change your preferences at any time! Here's how:
Click on the site menu at the upper right-hand corner of the page on your computer (or at the bottom right on mobile).

Click on 'My Preferences.'

Select the setting you'd like to adjust, and make changes.
When you make changes, the personalized meal options on your Discover page will update. (Recipes saved in your menus will remain the same!)
Want to plan for extras or leftovers or cook for more people? Simply follow these steps:
Add the meal you want to make to a menu.

Open the meal from the Menu page.

Select Change and click the Leftovers button to automatically double the recipe or scale the recipe up to the number of servings you need!
Can the Eating for Tomorrow Meal Planner help me plan for special events, holidays, or just leftovers?
Yes! We've made this really simple for you!
First, make sure the recipe is added to a Menu. Then, open the recipe from the Menus page. On the Recipe tab, you can increase or decrease the number of servings of that recipe (this is great for guests). For leftovers, just click the Leftovers button to double it! Your grocery list will automatically update for you, making shopping even easier.
Do you have an app?
The
Eat for Tomorrow Meal Planner
is available on any mobile device via your mobile web browser. That means you have all of the convenience of an app without having to download one from the app store. Also, you won't need to constantly update it, and it won't take any extra memory on your mobile device. That means you can access your account from a web browser on your phone or tablet any time, anywhere. 
For quick access, you can add an icon to your home screen, making the Eating for Tomorrow Meal Planner just as convenient to access as an app. 
To add the app to your iPhone home screen, please follow these steps: 
Open the  site (

meals.eatingfortomorrow.com

) in the Safari browser on your mobile device.

On the bottom tray, click the 'export' button.

Then select 'Add to home screen.'
This will add a thumbnail image to your iPhone's home screen, similar to an app, that will allow you quick and easy access to the Eating for Tomorrow Meal Planner.
To add the app to your Android home screen, please follow these steps:: 
Open the site (

meals.eatingfortomorrow.com

) on Chrome on your phone.

Then touch the overflow button (three vertical dots) and select

Add to Home Screen.

Next, all you have to do is touch

Add

and the site will join your other apps and widgets.
One recommendation: you can customize the text below the icon, Just touch the text inside of the Add to Home Screen box and change it up.
I'm not sure if I'm ready. How can I be successful?
Whether you want to reduce your meat consumption, go vegetarian, or try out some vegan recipes, we're here to support you! As a member of the
Eating for Tomorrow Meal Planner
, you'll know that you have a team with you every step of the way! We're here to cheer you on, provide support, and help you find the resources you need to be successful. Whether it's finding a recipe to bring to a potluck, knowing what to say to skeptical friends, or figuring out what to order at a restaurant, our team of Food Coaches are available to guide you. You'll always have a place to go to feel connected and supported!